Marr, a retired D.C. police detective working as a private eye for a defense attorney, has a serious problem. He is secretly a drug addict, and his long-time supply of cocaine is about to run out.
While staking out an upscale nightclub in an attempt to target the stash-houses of dealers from whom to steal for his fix, he settles on a target: a young college student. After a long night in pursuit of his quarry, Marr returns home to find he has been burglarized. Though his drugs are safe, several items are missing: his .38 revolver and his cherished music collection (with dozens of albums belonging to his deceased mother.) Marr immediately begins investigating the crime himself.
But when the dealer Marr had been following is stabbed to death in his own fortified home, Frank is certain that the burglary and murder are related. With good cops, bad cops, and exceptionally dangerous drug lords on his tail, Frank is determined to find out the truth, even if it kills him. This time, it just might.
 
What Authors are Saying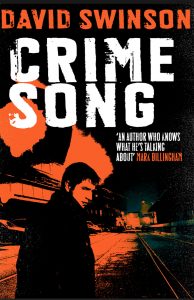 "David Swinson is one of the most exciting new voices to come along in crime fiction in this decade, and Crime Song is Exhibit A of his remarkable talent. Swinson's writing is heartfelt, powerful, and authentic, and Frank Marr is as fully rendered as any detective in recent memory." ― Michael Koryta, bestselling author of RISE THE DARK
"Frank Marr is a straight-up addict. His life, a train wreck. And he's the good guy. Welcome to the world of David Swinson, author of one of the most compelling P.I. series to come along in a while. Pick up a copy of Crime Song. You'll love it." ― Michael Harvey, New York Times bestselling author of BRIGHTON
"A veteran detective, David Swinson knows DC's secrets and it shows in this killer noir, so authentic it'll make you get up and lock your doors. Crime Song is even better than the fantastic The Second Girl and Swinson writes with a refreshing, understated realness. This is right up there with Richard Price and The Wire." ― Matthew Quirk, New York Times bestselling author of DEAD MAN SWITCH
"Crime Song is fast and rough and great. The atmosphere is perfect. The details are perfect. Only a cop, someone who's really lived in this world, could get so much so right." ― James O. Born, bestselling author of WALKING MONEY
Reviews
"If Frank Marr didn't have a drug habit, he'd probably still be with the narcotics squad of the Washington, D.C., police. But Marr is a willing slave to cocaine, so here he is, a lackadaisical private eye in David Swinson's CRIME SONG (Mulholland/Little, Brown, $26), trying to keep his coke edge while investigating the murder of his cousin, a nice kid who happened to be dealing drugs. 'I certainly wouldn't want to put my lifestyle on someone else,' Marr says. 'It ain't for everyone.' Drugs and all, Marr is easy to take, a decent guy with a sense of honor. And since Swinson is one of the best dialogue hounds in the business, Marr is also blessed with some terrific street talk. While searching for his stolen vinyl record collection, he has an extended conversation with a cabdriver that just about melts in your mouth. 'How many times I gotta keep tellin' you I ain't stupid?' the driver demands. Keep talking. We hear you." — The New York Times
"Swinson's first person present narrative and his own experience as a detective with the Washington, D.C. police department give CRIME SONG a grittiness and an immediacy from its relatively sedate beginning through its explosive second half. Once Frank's investigation gains traction, what he finds along the way is not for the fainthearted. Driven equally by his addiction and his desire to see justice done, Frank Marr is a complex and (dare I say it?) addicting figure who hopefully has many more cases to experience." — Book Reporter
"Did Crime Song's author, David Swinson, a former Washington D.C. police detective, draw on his own experiences in writing about Frank Maar, his book's central character? Not too much, one hopes, since Maar happens to be a former Washington homicide detective whose devotion to booze and drugs got him kicked off the job. Now he's a PI with apparently no intention of cleaning up his act." — TheStar.com
"Swinson delivers a superb second installment (after The Second Girl) in the "Frank Marr" series. Readers of Dennis Lehane, Richard Price, and George Pelecanos as well as fans of The Wire will appreciate the gritty depiction of the mean inner-city streets of our nation's capital." — Russell Michalak, Goldey-Beacom Coll. Lib., Wilmington, DE, Library Journal
"His second in the Frank Marr series (after The Second Girl, 2016) features sharp prose, spot-on dialogue, and a protagonist as complicated and unlikely as he is appealing. Fans of gritty crime fiction will want to add Swinson to their reading lists." — Michele Leber, Booklist Online