One of the New York Times', Booklist's, and Strand Magazine's Best Crime Novels of 2016!
Frank Marr knows crime in Washington, DC. A decorated former police detective, he retired early and now ekes out a living as a private eye for a defense attorney. Frank Marr may be the best investigator the city has ever known, but the city doesn't know his dirty secret.A longtime drug addict, Frank has lent his considerable skills to hiding his habit from others. But after he accidentally discovers a kidnapped teenage girl in the home of a local drug gang, Frank becomes a hero and is thrust into the spotlight. He reluctantly agrees to investigate the disappearance of another girl—possibly connected to the first—and the heightened scrutiny may bring his own habits to light, too.
Frank is as slippery and charming an antihero as you've ever met, but he's also achingly vulnerable. The result is a mystery of startling intensity, a tightly coiled thriller where every scene may turn disastrous. The Second Girl is the crime novel of the season and the start of a thunderous new series from an author who knows the criminal underworld inside and out.
What Authors are Saying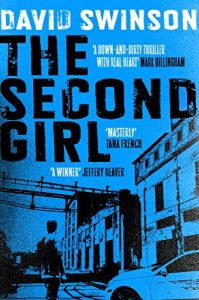 "Like the very best of classic crime writing, THE SECOND GIRL made me want to read faster and slower at the same time. Now I want David Swinson to write faster." — Michael Robotham, internationally bestselling author of LIFE OR DEATH and SHATTER
"Within the first couple of pages, David Swinson pulls off a masterly piece of characterisation: he creates a damaged, damned protagonist who no sane person would want to get close to, and then he grabs you by the collar and hauls you into Frank Marr's mind so fast and so thoroughly that none of that matters. The writing throws sparks, and the ferocious plot peels back layer after layer of Frank's character as we – and he – find out how much of his humanity is still left." — Tana French, author of THE SECRET PLACE
"Once you're drawn into Frankie Marr's world (in, oh, the first few pages of this fine novel), you won't want to leave. Marr is one of the most compelling and complex protagonists to come along in years. And, not content with just creating a memorable hero, author Swinson also offers up a breakneck plot, which he recounts in muscular prose and with a commanding knowledge of cops, bad guys and the streets of Washington, D.C. Reminiscent of The Wire and the writing of George Pelecanos and Dennis Lehane, The Second Girl is a winner." — Jeffery Deaver, author of THE STEEL KISS
"Like Dennis Lehane and Richard Price, David Swinson gives us a gritty urban crime novel popu-lated with morally complex, utterly believable characters. Swinson knows how to build suspense, and he has a great ear for the patois of the streets, but it is Detective Frank Marr's tightrope walk between noble and darker impulses that makes The Second Girl such a rewarding read from start to finish." — Ron Rash, author of SERENA
"David Swinson steps into the mean streets of American fiction with an unforgettable character, Frank Marr, and that journey takes readers into realities most people never see. THE SECOND GIRL is a non-stop drive through American crime, punishment and even an alley or two of justice. Swinson's fiction is making its mark on our cultural wall. It's great to see fiction created by an author who paid his dues to learn our hidden realities." — James Grady, author of LAST DAYS OF THE CONDOR
"The Second Girl is a down-and-dirty thriller with real heart from an author who knows what he's talking about. This is firmly in George Pelecanos territory and it doesn't get much better than that." — Mark Billingham, author of THE BONES BENEATH
"In a world of pretenders and wannabes, David Swinson is the real deal. THE SECOND GIRL crackles with authenticity, and introduces an antihero in Frank Marr as compelling as the habit he can't shake. In Swinson's hands, Marr is a reflection of the mean streets of DC he calls home: tarnished, drug-addled, but maybe—just maybe—not too far-gone to save." — Chris Holm, author of THE KILLING KIND
"Brimming with equal parts authenticity and heart, THE SECOND GIRL boasts a cops-and-corner-boys milieu as gritty and compelling as anything in The Wire, as told by a tough-talking P.I. protagonist with a vulnerable side. David Swinson is a hell of a fine writer, and THE SECOND GIRL is a stellar first entry in what's sure to be a can't miss series." — Owen Laukkanen, author of THE WATCHER IN THE WALL
"THE SECOND GIRL is as good as it gets in crime fiction. Compelling, gritty, authentic, and an anti-hero you end up rooting for. It reminded me of THE WIRE and I enjoyed it every bit as much. Great read; close to perfect." — Peggy Blair, author of HUNGRY GHOSTS
"This is a tight, tense tale that sucks you in [and] won't let you go. There is a feel [of] "The Wire" about this book, along with writing that's reminiscent of Michael Connelly or Jo Nesbo's best work. Gritty, authentic action, spot-on dialogue, a sense of place and voice, and the plot just moves like a river. I felt like I stuck a toe in and got caught in that cold river where [Frank Marr] liked to dump people…I was swept away, and washed up in the end with a sense of relief and hope…which is just what I like in a crime story. Well told, David Swinson!" — Toby Neal, author of the Lei Crime series
Reviews
"A functional cocaine addict, Frank Marr was once a Washington, DC narcotics detective able to keep his secret for years … While robbing a stash house, he finds a girl chained in the bathroom … Simply a great book, with a character you will at times dislike, and then admire for his capabilities. Keep in mind, he's a junkie." —  June Lorraine Roberts, Murder in Common
"Swinson's writing is perfect, tough and gritty, dropping Marr into nearly impossible situations then letting his character use every bit of street smarts and investigative wisdom he's earned over the years on the force to wiggle his way out of trouble and solve the case …" — Christine Zibas, Reviewing The Evidence
"The Second Girl gives us a gritty streetwise detective story with a believably flawed detective. I'm looking forward to more books in the series and to seeing how Frank continues to deal with his addiction. The Second Girl already has me caring about him …" — Scott Montgomery, MysteryPeople
"My understanding is that THE SECOND GIRL heralds the start of a new series. I assume that Swinson will be putting his protagonist through some interesting changes. You won't want to miss a mile of this ride, so jump on now …" — Bookreporter.com
"This brilliantly conceived thriller digs deep into the dark heart of America's capital city as much as it does that of its ex-cop protagonist … The action scenes are brutally believable, the setting starkly realised and the (anti) hero compelling; this could be the start of a gripping new series …"  — Adam Colclough, Shots Magazine
"Swinson, a former D.C. police detective, avoids the clichés of the hard-boiled crime story. Instead, he has written a character-driven novel of suspense featuring an anti-hero for whom life in the nation's capital is a no-win situation.  For those tired of cops, bad guys and the traditional urban crime novel, The Second Girl offers up a clever labyrinth — pulling the reader in to see just where Frank Marr is headed next …" — The National Book Review
"How do you soften up a tough-guy hero anyway? The conventional approach is to make him a widowed or divorced dad who pines for his little girl. That, or give him some icky disease. With these and other clichés so close to hand, it's actually refreshing to pick up THE SECOND GIRL …" — Marilyn Stasio, The New York Times
"By the time Frank Marr discovers the fate of The Second Girl, readers will be championing David Swinson as a first-class writer and a heck of a storyteller …" —Kristopher Zgorski, Bolo Books
"It doesn't mean much to me when a writer signs a deal with a major publisher. The publisher typically has dreams of a best-seller and I don't generally care for best sellers. I'm happy for the writer, as I'm in favor of anything that gets a writer paid and doesn't involve potential prison time. I'm just not likely to read the book … I'm also not much for awards discussions, but if The Second Girl doesn't receive substantial notice at awards time next year, it's prima facie evidence the various bodies are even more clueless than I suspected. This is a substantial and relevant book that is still entertaining, and David Swinson is a writer to whom we should all pay much attention in the coming years …"  — Dana King, One Bite at a Time
"… Swinson (A Detailed Man) delivers an excellent ­addition to the noir genre as he unveils layer after layer of his gritty protagonist. ­Readers of Dennis Lehane and Richard Price as well as fans of The Wire will appreciate the bleak description of inner-city Washington, DC." — Russell Michalak, Goldey-Beacom Coll. Lib., Wilmington, DE, Library Journal
"Swinson was a big punk-rock promoter in Long Beach before reinventing himself as a highly decorated Washington, D.C., detective. He's got a great hook in this sweaty, suspenseful saga of a coke-addicted retired D.C. cop-turned-private investigator deep in the world of sex-trafficking. This book will sell like crazy. Publication date is June 7."  — Tim Grobaty, Long Beach Press Telegram
"Frank Marr turns the PI mold on its head; he's an addict with a self-serving vigilante streak. But he's also a pretty decent guy deep down who works the streets with expertise, and readers will be fascinated by the day-in-the-life perspective of an unrepentant cocaine addict. A gritty knockout debut that screams for a series." — Christine Tran, Booklist
"PI Frank Marr, the narrator of this highly original noir from Swinson (A Detailed Man), has a big problem: he's a cocaine addict. When the former Washington, D.C., police detective breaks into a house in search of a stash he hopes to score, he finds Amanda Meyer, who can't be more than 15, chained to the floor in the bathroom … Frank constantly makes bad choices, and Swinson keeps the outcome in doubt to the end. He also does a fine job portraying the varied neighborhoods of contemporary Washington …"  — Publishers Weekly
"Old habits die hard, and sometimes cause collateral damage, in this character-driven crime story … An auspicious, and gleefully amoral, series debut …"  — Kirkus Reviews
"My first post-Bouchercon reading, David Swinson's The Second Girl, takes every cop-turned-P.I. trope you can think of and turns it on its head …" — Peter Rozovsky, Detectives Beyond Borders